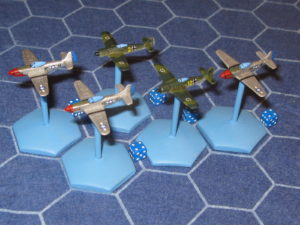 There's a Bag the Hun 2 game on the 26th September.
This will be an April 1945 free for all dogfight over the outskirts of Berlin featuring the RAF, USAAF, VVS and, last but not least, the remnants of the Luftwaffe.
The game is fully booked up with players, who will each be assigned a pair of aircraft to fly, with the objective being to shoot down as many of the enemy as possible before their fuel goes 'Bingo!'
If you're coming along, please bring a pen or pencil and plenty of D6. If you have your own copy of the rules that would be really handy. Jim will provide all the aircraft, record sheets, cards and tiddly dice.
Tally Ho!