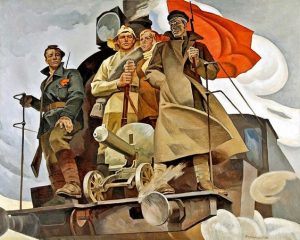 WORKERS! PEASANTS! COMRADES!
The recent cowardly and unprovoked attack by imperialist counter revolutionary forces on the Third Workers and Peasants Shock Brigade must not sway us from our duty to spread the message of proletarian revolution to the downtrodden masses of Mongolia!
It is a mere inconsequential set back that we face in our inevitable and irrepressible onward progress to Urga. There we will be able to provide fraternal support to our Mongolian brothers and sisters, as they struggle to overcome the decadent repressive bourgeois counter revolutionary forces of imperialist  aggression that have so recently sabotaged our efforts.
It is clear that these saboteurs must have infiltrated our ranks and caused our tanks to blow up and our aircraft to crash in flames! Only such an underhand and cowardly wrecking can explain the outcome of our battle with the British Museum and it's so called archaeological expedition, a shabby camouflage for an imperialist counter revolutionary intervention no less!
Fear not Comrades, for I have telegrammed a full report of this dastardly attack to our central party apparatus, in which I have requested armoured train reinforcements to replace our losses and to bring the full might of proletarian justice to bear on these capitalist agents of reactionary repression.
Onward to Victory!
Comrade Colonel Igor Tubugerov
(big words by People's Commissar Nasti Tchestikov)